Even modern "fairy tales" often begin … once upon a time. Yes, it was a time when conspiracy theorists were once again booming, the year was 1999 the transition to the new millennium. The Internet was going to crash, computers were going to turn off, clocks were going to stop and the modern digital world was going to end. A scenario that was supposed to terrify us. In August 1999, the total eclipse of the sun, frightened and shocked not only some people, but mainly animals and our pets.
Exactly at this time a hard blow has hit me and my family,
actually a regular parade of blows, one after the other and we had the feeling that everything around us was in turbulence, in upheaval, to the point of collapse. 
Our daughter came to the realization that, although she was about to graduate, she did not want to teach, as a teacher in today's school environment.
Our son had contracted pericarditis after a bout with the flu.
My wife had to deal with justified accusations that were anything but pleasant, and I was subsequently, although already in the new year 2000 as managing director, terminated.
The frightening thing was, that we ourselves were responsible for all these situations and things that came upon us. By the way, this realization took us quite a while to understand, process, accept and forgive ourselves. Yes, it was a real upheaval that turned us from our heads to our feet in one stroke.
On the way to our new reality
the daughter found her place in becoming self-employed in an educational, therapeutic learning facility for children. We as a couple, were initially allowed to work off our guilt to some extent, and my son explained to me, after his studies as a business economist, that he wanted to become self-employed together with me. I actually didn't want to become self-employed, I was eager to take a job that would give me the kind of safety that seemed reasonable and sensible in the situation we were in. I was looking for security, but I immediately felt that this possible employment would only be an apparent one.
One more thing, I had not thought about it at all, especially I did not feel at that time that I already belonged to the "old iron" generation. I was only in my early fifties and as a well educated, graduated businessman and experienced entrepreneur, I should have actually been a "bargain or sweetheart" for a company.
At least, that were my expectations.
Rubbish, after just a few attempts I realized that even the first hurdle in the job application competition could become an insurmountable obstacle. Once you have a 5 as the first age digit, the suspicion that arises immediately confirms that you are already stuck on the sidelines and are no longer allowed to play in the application process game.
It quickly became clear to me that even after receiving the mail, the further application path via the set switches was already programmed in advance for "rejection". To the actual decision maker one does not get through at all and falls shortly after the start already out. As a rule, one is already eliminated even before one has crossed the starting line.
Now what, were the first thoughts? What is the reason, what are the causes, where is the problem? What do you have to do in order not to end up in this dead end or the sidelines?
Are the relationships that have been built over the years not working for us? Or is it really true; "once you're gone, no one misses you" or doesn't know you anymore. On the one hand understandable, who wants to go out on a limb for someone else, he has to ask himself, is he really sitting so firmly in the saddle that he can afford it?
So sticking your head in the sand was not an option for us.
Yes, right "for us" my son, Steffen – 23 years young, well and recently trained, ambitious and wanted to build something together with me.
As a successful consultant, sensitive coach,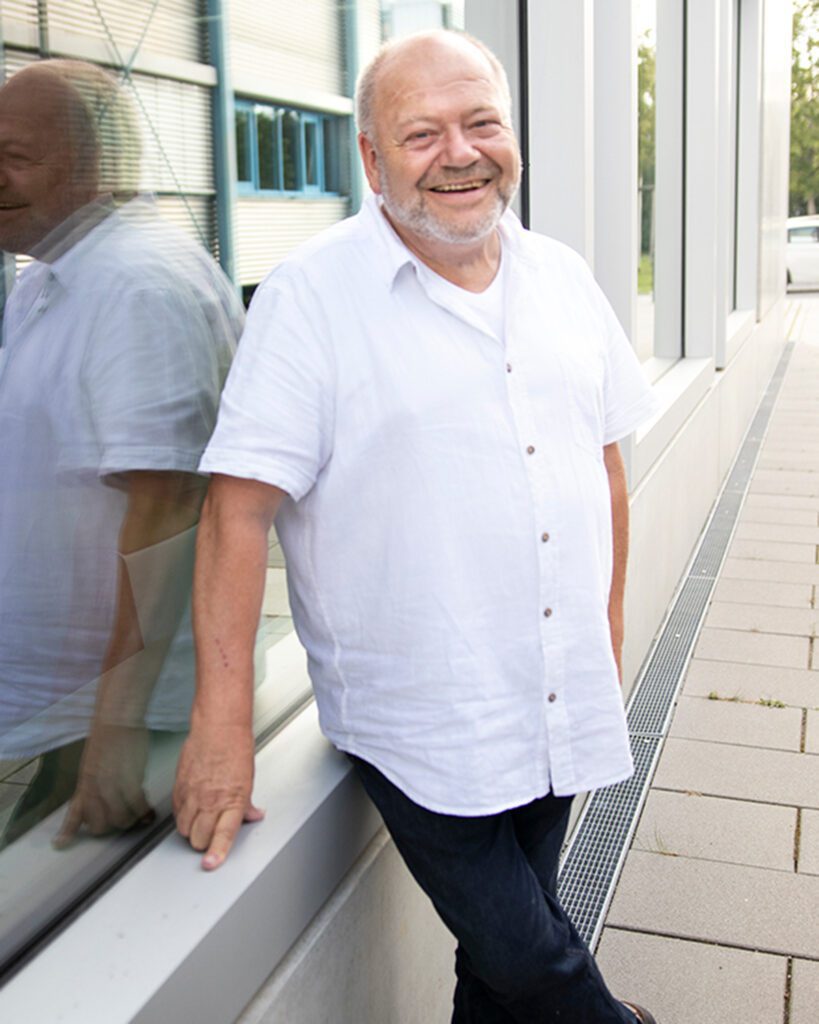 enthusiastic lecturer and experienced entrepreneur, who had profound insights and still enough power to build up and develop something together with my son, the forward-looking, committed and responsibility-seeking young business economist. That had charm and really sparked enthusiasm in us. 
From the first idea, to the insights and to the actual realization, there were now many days, months, trials and corrections, changes, improvements and a lot of brainpower, excited discussions, many discussions, mistakes and failures and finally many target group analyses and corresponding tests and, most importantly, numerous decisions necessary in order to actually be able to start safely.
We have ultimately founded a new company, together with a management consultancy dedicated to quality management, which has set itself the mission to bring "women and men 50+", executives, who have dropped out of the work process back into the labor market stronger, up-to-date, educated, trained as generalists or entrepreneurs.
Helping people help themselves
so that these people find a self-determined path that mobilizes their – otherwise idle – resources and motivates them in such a way that they become attractive enough for small and medium-sized enterprises (SMEs) to hire them. Or they develop the courage and dare to enter into sustainable self-employment.
With the dual university BW in Horb, contacts were made to the University of Bolton, which accepted our qualification BM.M over an additional Assessment in English language, one as "comparable" Bachelor degree to enable a further MASTER study at Bolton.
These were the foundations for the integration course BETRIEBS-MANAGER Mittelstand (BM.M)®.
Now we were not only lucky,
but we also had the right entrepreneurial flair.
After long research, we discovered funding provided by the European Union "ESF Project" and the Employment Agency that supported our objectives.
The subsidies were made available for innovative methods to counteract the "early retirement" or "youth mania" that had become fashionable in Germany in the meantime and had put a corresponding strain on our pension funds.
Less than 50% of the women and men over 50+ were still employed. Thus we, as Germany, were an unintentional frontrunner in Europe.
The EU wanted and Germany had to, absolutely change this within Europe.
At this time, started the first training course
BETRIEBS-MANAGER February 2004, emerged in addition to the new " Harz laws", the related education voucher and later followed by all the laws to combat discrimination against women and older people.
In 2003, we were the first purely private company to receive ESF funding.
We were also the first in Germany to recognize that 50+ requires a special form of learning and we were promoted by television, "Monitor" and other magazines, Abendschau and radio, Fokus and numerous regional and national magazines.
Within a short period of time we succeeded in developing three complete BM.M courses in the first year.
We were awarded and hyped, so to speak, although this was not yet called so at that time.
Now began the journey of the BETRIEBS-MANAGER Mittelstand (BM.M)®
which still proved to be a successful model and proven method many years later, especially for experienced managers to find a second study or, as a matured personality, a self-determined path for oneself.
Simply doing what you really, really want to do.
An important sentence that a patron, role model and friend, the American philosopher Prof. Dr. Fritjof Bergmann (NEW Work, NEW Economy, NEW Culture) passed on to us.
To date, from 15 cities (Hamburg, Stuttgart, etc.).
predominantly in Baden-Württemberg, 750 graduates completed the BM.M course and returned to work. The first courses we have always carried out with appropriate educational partners.
Since 2014, we have certified Aurelia Holding AG in-house and have started to conduct the BM.M courses ourselves in Böblingen.
Since 2017, we have successfully started the BM.M courses in Schweinfurt as an independent GmbH branch.
Since 2017 we are partner of the IBB AG in Hamburg and with the VIONA Academy in Stuttgart, Schweinfurt and Rottweil-Zimmern with over 400 courses, retraining and special training, IHK certified courses in virtual digitally active classrooms.
The guiding principle of AURELIA HOLDING AG
We will always promote the development of our guiding principle that the human beings is at the center of the company.
In addition to the training courses and training programs, we offer management consulting, coaching for managers and entrepreneurs, as well as business start-up consulting and support.
Women and men 50+ are our target market and we will empower them with all our power, with our energy and own commitment and support all of them on their self-determined way into the future.
Check out my video preview story!
AURELIA HOLDING AG
Stuttgart-Vaihingen Untere Waldplätze 36 70569 Stuttgart