From FATE to DESTINY and LIFE PASSION
There are situations in life
that I, only after many years, understood. Sometimes you can't see the forest because of all the trees. That is what happened to me.
It all started in the early 80's
when my little son locked himself in the children's room and the door could not be opened from the outside. Oh my God!!!
My son started crying, I tried to calm down and steer him. Time was racing by and I was starting to panic, as a small child can quickly swallow something or …… After much coaxing and encouragement, the toddler was able to open the door… after 3 hours. I still can't believe that he was able to do this, at such a young age. Even then, it was a sign that he was a remarkable boy.
Life went on and at the end of the 90's
as the proud owner of a hotel, I suddenly had a problem with one of the doors in the hotel. This time my hotel guests stood before a locked door. because the key was forgotten inside the room.
I had to react quickly, which I did successfully, but it cost me a lot of sweat and energy, although in the end, it turned out to be a simple product. 
As Albert Einstein once said; "In simplicity lies the genius!"
This experience was finally the birth of my Lockout Guard.
As time went by, I recognized its benefits, more and more. It turned out that it was appropriate for inner, as well as outer doors, whereby the usage is different. 
So, I decided to demonstrate the prototype to my guests, on different doors and I always got new impulses and ideas to improve my prototype.
What was important to me, however, was the feedback and that was consistently only positive and enthusiastic. Nevertheless, I remained skeptical, telling myself that this was due to the politeness of my guests. —
And yet, life went on and on.
Our hotel, new planned investments and the passion for tennis took all my attention and so my invention just sat there.
No room for anything new!!! 
Our hotel was running very well, financially sound and thus fully utilized, why should I bother with "anything else"?
Perhaps I also had some fears or barriers stemming from my previous entrepreneurial experiences. A long dry spell of unpaid bills and existential fears, that I was able to conquer and in the end change it for the better.
All this has left its mark on me to this day, but how could I forget?
Coincidentally, I read in 2019 that a person died because he locked himself out. Many thoughts came up, along the lines of "you could have avoided it before"!!!!
I started googling, saw TV reports and most importantly, I read a lot about serious injuries, high bills, scams and even deaths,  that weren't uncommon. A big topic with unresolved questions unfolded in front of my eyes.
In Germany alone, 750,000 people officially lock themselves out every year and many are taken advantage of in their distress and stripped of their money. I had the feeling, that I had not prevented these lockouts. All these thoughts and facts did not let me go, changed my mindset and brought my " old " idea back to the light.
Why not? This was the time to determine whether I meant it or not.
I decided to visit the next security show, i.e. to go directly to "The Whole of the Lions". I was not reluctant to drive the 480 km to the trade show at 3 o'clock in the morning and after a 2 hour stay, back home. There, I visited two different stands, from the two largest German manufacturers of door/cylinder technology. The reactions of the engineers were so overwhelming to me, that I almost flew home afterwards…two real accolades for my Lockout Guard!
After that followed registration at an inventor – technical show. I was invited and won the "safe is safe" quality seal. At this point,  it became clear to me: 
Life goes on and on, but this will be my next big life mission.
Will the family go along with it?
My wife, to whom I have been married for almost 40 years, always supported me, without compromise. Our son is technically skilled since he was very young, now educated and experienced. He has helped me create my real estate website, my hotel website with reservations. Now for the Lockout Guard, he created the 3D drawings for the manufacturers, animated videos for YouTube and many more. His expertise accompanied me always, when I needed it. In addition, there is a computer professional who is responsible for my web and social media presence and another young entrepreneur who helps in the area of social media channels.
People, encounters and experiences make me the person I am today: Boris Micudaj.
In my life I have met great people, who have helped me and whom I have helped myself. I am glad that I do not feel envy in any way, but rather consider it as an incentive. What I have always done in my life, was always with the best intentions. I will continue to keep it this way.
I am personally happy when I can help someone and don't wait until they ask me to. My sense of gratitude, justice and honesty is very strong. Have gone through extreme experiences, where small things, had the greatest impact. These experiences, I do not take for granted, but as a "gift from heaven".
Some of these experiences have turned out in my favor and have made me intensely "grateful". As a result, I developed a strong inner emotional relationship with the disabled, the sick and children. So, to people who are in need of help and protection.
In my spare time, tennis has accompanied me, for many years. My wife and I visited several tennis academies in order to become coaches. During a visit to a well-known tennis academy I was told the following saying:
"Cobbler stick to your last"
This was based on the impression I had made at that time, and yet I did not give up. Today I can proudly say, that I have been active in several tennis schools and clubs. I have two coaching licenses and kids mostly want to train with Boris. In addition, I am constantly recognized by club officials, parents and students. Why didn't we meet you earlier ….
So never let anyone ruin your dreams, no matter who they are.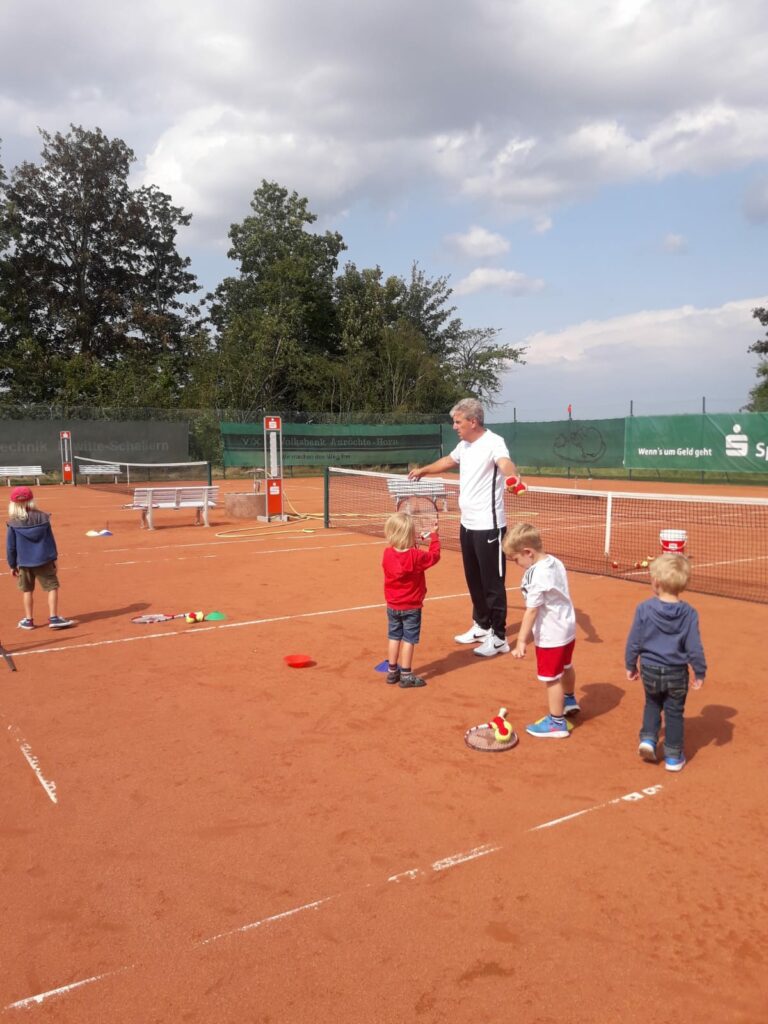 Tennis is and remains my great passion and has accompanied and helped me, through the years in the most difficult moments. I also connect tennis with  meditation.
In fact, tennis was almost one of the reasons that I didn't show my "Baby Lockout Guard" to the world. But a press release about the extreme cases and consequences, that have already happened and unfortunately will still happen, as a result of lockout, changed my desire to dedicate myself not only to tennis.
I would like to reach as many people as possible, in order to teach them how easy, inexpensive and safe it is, to protect themselves against lockout.
Today I have one passion and one life mission!