How do you go from Voodoo Systems to Six Sigma Lean Consulting?
I grew up in a small village in the Black Forest near the border with France.
My name is Dominik Vollmer and I started Six Sigma Lean Consulting in 2013.
At the beginning, I was the only shareholder and after 4 years Xavier joined as a partner.
From a young age, I had an entrepreneurial spirit. For example, as a child I was able to convince my parents to buy me a computer. So I was able to surf the FidoNet (a kind of precursor of the internet) and program simple software for computer magazines, which was paid 100 DM. The readers of the magazines back then, had to spend days typing out columns of numbers, in order to use the software.
As a teenager, I started working for a local computer company, custom-building and repairing computers. I always liked solving problems and was really good at it. After a while, I realized I could run a business like that on my own.
So I started my first business. I was 20 years old and my company was called Voodoo Systems. Not only did I build my own customer network of local businesses and individuals, but my family and friends had computers that sported my brand.
During the first years of my studies, as an industrial engineer at the University of Karlsruhe, I made the logical decision to close Voodoo Systems in order to fully concentrate on my studies. This decision paid off. I spent a year abroad in Lyon, enjoyed my stay in the South of France and had a good connection to the French people and their culture. Maybe this is one of the reasons why me and Xavier are such a good match, on a personal level.
During my undergraduate studies, I had the opportunity to do an internship at Daimler-Benz AG. There, I was confronted with Lean Management for the first time. More than 20 years ago, no one called it lean. The term at the time was KAIZEN, which is Japanese for "change for the better.I was able to experience how you can achieve incredibly large jumps in productivity with very simple principles. How to achieve a 50 percent increase in just one week. How one week can change everything. I don't mean showing a potential for improvement in one week. No, within one week everything was implemented.
This realization had a profound impact on me and highly motivated me to pursue this later. I was proud that I was able to continue freelancing at Mercedes, even as an undergraduate student, as the youngest employee in the KAIZEN department.
I later started my professional life at the same company.
My first job was as an in-house consultant at the Mercedes passenger car quality center in Stuttgart. A few years later came the Chrysler merger crisis and I was allowed to attend a Black Belt training and prepared a concept paper for the introduction of Six Sigma at the corporate level.
Daimler-Chrysler at that time was ruled by division heads and was light years away from practicing this type of approach on a large scale.
I could not have known that, although still largely green behind the ears, I had laid the foundation for the subsequent worldwide rollout of Six Sigma at Mercedes with my paper.
But that took time. As part of a group-wide restructuring program, our in-house consulting department was dissolved and transferred to a central quality department whose goal was to establish Six Sigma and other problem-solving methods within the passenger car division, first in Germany and then worldwide.
Together with my department head at the time, I was allowed to fly to Detroit to report on the Black Belt program that had already been introduced at Chrysler. Today, thousands of employees are trained in Six Sigma. Although I often disagreed with the route taken, I was proud that the first concept paper, came from my pen. The day Dr. Zetsche and all the board members decided to go for it, I was allowed to be in the room. But I was not important enough to be allowed to present it myself.
That should have been the way,
that I was going to follow for the rest of my life.
The Black Belt program at Mercedes was aimed at improving the quality of the products and I was allowed to implement Six Sigma together with an external consultant.
His boss at the time was Michael Harry, the "Father of Six Sigma," who is credited with developing the Six Sigma concept, according to Wikipedia.
After a few years, I wanted to learn more about Lean. Many of my fellow collegues didn't think much of it because they simply didn't know it. Blinded by their daily work with drills and special dowels, they completely underestimated the benefits of hammer and nail.
In my previous work with KAIZEN, I had experienced the impact and breathtaking implementation speed of Lean.
It was clear to me from the beginning – that the combined approaches would lead to the highest level of success.
Partnership with Xavier and Andreas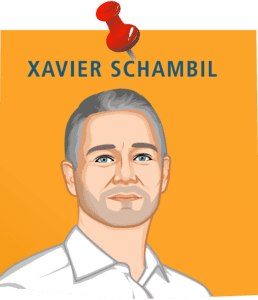 I moved to the Mercedes Production System division and, after completing the one-year Lean training, was allowed to train employees and managers in Lean and accompany projects, as an expert trainer. During this time, the foundation for my later partnership with Xavier and Andreas was formed.
Andreas was the first person I met. My first Lean project was in Berlin and Andreas was working there. From the beginning I had great respect, he was further along than I was and a very valued colleague. When he started his own business a few years later, I admired his courage to leave Mercedes to implement Lean Management in hospitals. His decision at the time and his successes encouraged me to do the same, 3 years later and start my own consulting firm, too.
Like me, Xavier was an in-house consultant and trainer. What I did in the passenger car division, he did in the truck division. We were a great fit right from the start: We had the same passion for Lean and Six Sigma and teamed up from the beginning to implement the combination of the two, within Daimler. Actually, our initial idea was to write a book about our experiences. We wanted to bring the concept to the world. We never wrote the book, instead we work together today for our own company. With the same mission.
Will the book still come? We'll have to wait and see.
Another component led us, later, to Quadrant Academy, where Andreas, Xavier and I joined forces.
At Daimler, we were trained as systemic consultants by an experienced psychologist. That was the turning point. Now, we were not only experts in Lean and Six Sigma, but we also knew how to convince skeptics and move people. Change management was the missing component. We were taught how to engage people emotionally – the most important element in a process – how to convince them, and how to see resistance as an opportunity and use it to our advantage.
Resistance was "the" basic problem that all 3 of us had not been able to solve until then. We were given techniques on how to get people to recognize on their own that change brings benefits. How to activate positive thinking. How to create change momentum. This was the missing piece in our puzzle. (Illustration of gears).
Six Sigma Lean Consulting and Quadrant Academy
Armed with all this knowledge, the time was ripe for Six Sigma Lean Consulting and, a little later, for the Quadrant Academy. Initially a "one-man-show". Today an academy with a team of nine highly motivated "lean enthusiasts".
The road began with my first major customer. That was Festo.
There was no question about it. Festo had already successfully applied Lean and Six Sigma in production – and the idea was to now implement Lean Six Sigma in the administrative area, too. For this purpose, there was an invitation to bid, to which 10 applicants were invited. Among them, there were practically all the large established training and consulting companies with Lean Six Sigma expertise in German-speaking countries. And me, a one-man show and completely unknown outsider.
In the end, I won the bid and successfully completed the assignment, together with Festo Training & Consulting. To this day, I don't know exactly, how I managed that. An employee later told me that the other applicants had primarily presented their trainings, since it was a training bid. To this day, I am convinced that training is only one component among many. In my concept, I showed how to select the right projects, tailor them, and reduce complexity, in order to handle them successfully. And how to conduct trainings in such a way, that the focus is not on training the participants, but on achieving the goals of the projects. That made all the difference – and Festo is still one of our most loyal customers today.
I am proud that all our customers who have ever hired us, are still with us. We have never lost a client. 100% retention rate. That makes us all very proud.
We have a very collaborative relationship with all of our clients. They know that we don't just want to make money, but that we are highly motivated to make Lean Six Sigma a success in their companies.
That's what drives us.
Today, each one of us manages almost a hundred projects a year, unless a pandemic intervenes. In the Daimler days, it was just one per quarter. We have learned to accomplish a lot with few resources.
An experience that makes me particularly proud: A paint manufacturer had hired 2 institutes – and tried unsuccessfully for years to solve a highly complex problem in production. With the help of Lean Six Sigma, we were able to solve it after just a few months – but above all with change management. It was a real tour de force: The biggest problem was not the complexity of the problem, but that the employees themselves didn't initially believe they could solve it. Cracking this "nut" was more difficult than the actual technical problem. In the end, we saved over 15 million Euros. This customer has since decided to implement Lean Six Sigma on a large scale. You can't have a better starting point for the Lean Six Sigma rollout. And I am very proud of that.
Of course, I do not only work...
I am married, have a wonderful wife, Anja, who, by the way, now handles our entire back office and watches our backs every day when we are with customers, even though she never learned how to do that professionally. And two wonderful children, Jannis and Lea. We all have a passion for South Africa and look for every opportunity to spend time there. It's our sanctuary when work gets above our heads … and our inspiration and zest for life.
We play tennis, we ski, we play chess and we always have fun doing everything together. Jannis is 10 years old and now designs Lego models, which in my eyes are better than many Lego models. 
Our 7-year-old Lea is dog crazy through and through and has been dreaming of her first dog for what feels like 6.99 years. It will remain a dream – we see absolutely no room for a dog in our city apartment. But sometimes dreams turn into reality. In this case, we hope she changes her dream.