What does Corona have to do with neon colored hoodies
Actually, I also have a middle name. But it's only on my birth certificate – Maria. So my name is Sandra Maria. My mother figured that Sandra Maria sounds like Santa Maria. After all, that's the song that has accompanied her and my father to the altar. The marriage has lasted for more than 35 years. So, it seems to be a good sign.
I am 34 years old and was born in Vienna.
I have always been a bundle of energy.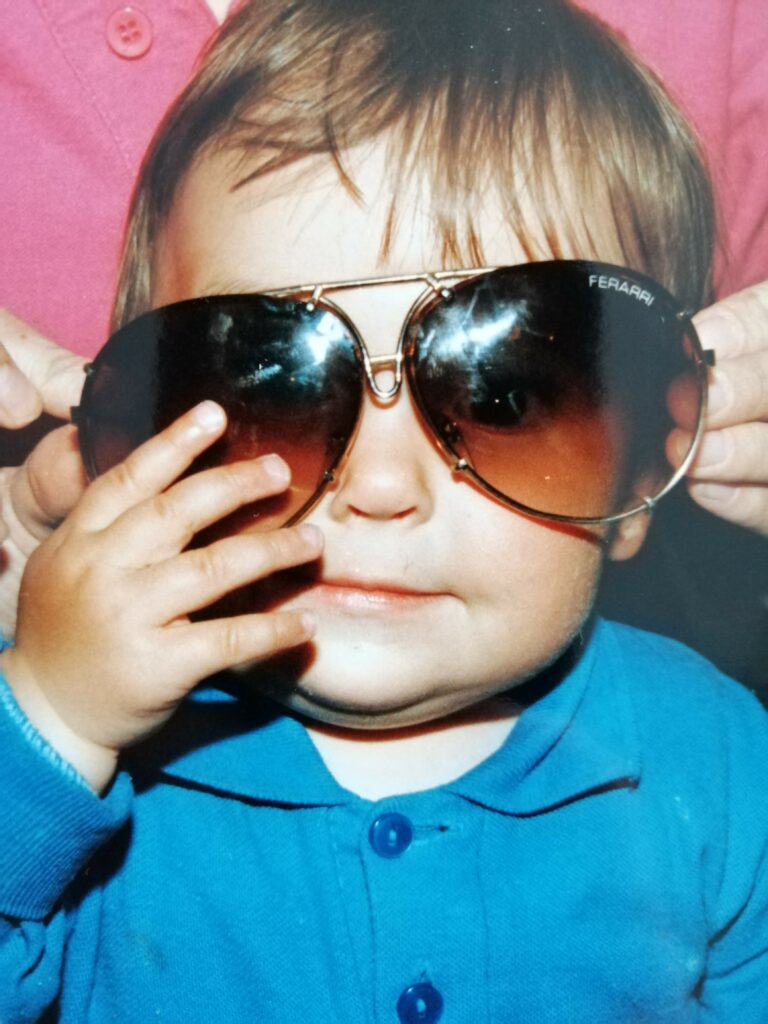 To be honest, I think I pushed my parents to their breaking point, quite regularly. Since I can remember – I love sports and especially balls. I started playing tennis when I was 5 years old. This wonderful sport has been with me ever since.
Tennis is my longest relationship and my greatest constant in life.
Many things have changed throughout my life, but not my passion for tennis. For a short time, I had aspirations to make it my profession. But at the end of the day, I decided to keep it a hobby. In the meantime, I also hold a trainer's license and love to train children. Always looking for a new little Roger Federer. Roger Federer, the best tennis player of all times. There is a bit of a debate about this. But for me, no such question arises. If you manage to make something that is quite complex and extremely powerful, look so simple and straightforward, then it means that you can only be a star. Tennis, by the way, has an infinite number of parallels to normal life. At this point an important message to the parents out there:
Let your kids play tennis.
You won't regret it, I promise! 🙂
But back to me and my life. First of all. None of my stages was planned a la 5-year plan. I was always very versatile when it came to my interests. In the lower grades of high school, I didn't even know whether I wanted to go in the technical or the economic direction. The logical consequence was to stay in high school and continue my education. For me it was then clear, that I would study. I can't remember exactly why. The studies were supposed to position me, to find a cool, well-paid job in a well-known company later on.
Somehow, that's exactly how it happened.
Somehow, that's exactly how it happened. I completed my high school diploma (called Matura in Austria) in Baden, near Vienna. Followed by my Bachelor of Arts in International Business Consulting, then went to the University of Applied Sciences in Wiener Neustadt; with a focus on Marketing & Sales. In the 4th semester I spent a semester abroad in Paris. That was awesome! During those 6 months, the emphasis was clearly not on studying. However, this period sparked my desire to travel abroad. At the time, there was no way of knowing that I would end up in Germany. The turning point was the 6th semester – internship. The assignment from the UAS was "Look for an internship at a company where you could envision being hired. The actual job was not soooo important" At that time, I didn't even think about being hired. I rather thought that it was ridiculous… I picked up a few newspapers and randomly collected mails from contact persons within companies – that I knew. Today, when I know how processes work in large corporations,
I know that my way into the Daimler Group wasn't really viable. BUT it worked.
An e-mail to Ms. Müller (unfortunately I don't remember her name). A day later a phone call, a few more days later an interview… in Stuttgart at Daimler at the HR department in charge of Asia. Stuttgart… not necessarily my dream city, but still. Daimler… not necessarily my dream company… Even back then, I liked driving cars. But a true auto fan… I was far from that. Still, not the worst choice
Human Resources... damn... didn't I want to be in super cool marketing?!
when I met Walter Schaff...
(Attention, this is not a love story!).
Walter used to be a top-level manager at Daimler. E2 is what they call it internally. HR Director for the entire Asian region. Wow. A hierarchical level that resembled a demigod, back in 2007. Walter didn't give a damn. Hierarchy or not. I had been with him for less than 3 days and he promptly placed various tasks on my desk, the little intern, and said "go for it". Highly untypical. I liked him a lot from day 1. He was completely unconventional and liked to cross boundaries, or rather, dance right past them. To conclude the Daimler part in the right way…
Daimler is, if I think about it, next to tennis, my 2nd longest relationship.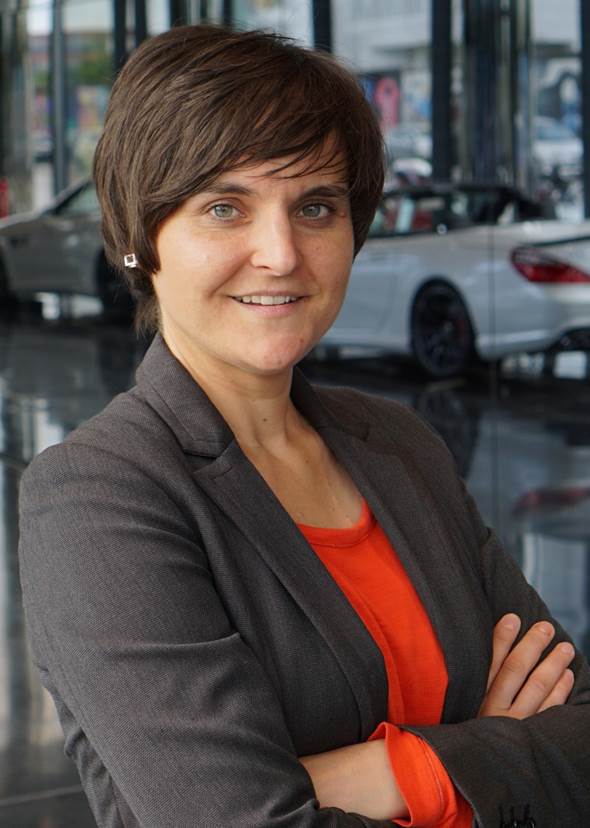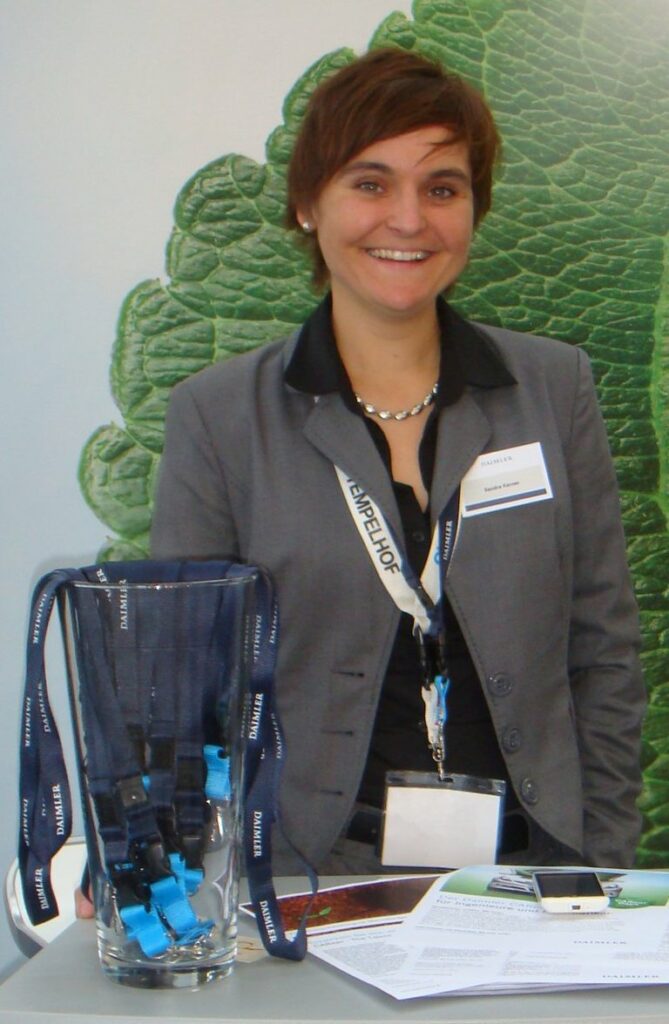 After the internship, I completed a part-time master's degree, and then I joined the company permanently via CAReer, the trainee program. After that, I changed departments and areas of responsibility every 3 years or so. Boredom is not really my thing. So I got to know the passenger car world, the Transporter & VANS empire, marketing, HR marketing, employer branding, project management, line activities, I was on assignment in Stuttgart, Berlin, Beijing, working for all 3 Sales Studies. I met a lot of great people, attended insanely great trainings, traveled around. And yet, at some point, I was no longer happy. I stumbled into the company somehow, and over the years I've always fixed things up, so that they fit. Every few years , I questioned whether, I was still in the right place. Something inside me told me "no, you're not." But my half-hearted attempts to look externally for jobs didn't really help me in the decision-making process. Many people have told me that they were contacted by headhunters and were offered endless great jobs. For me, that was somehow not the case. I wasn't really unhappy. Nevertheless, I noticed that there was something there. In the meantime, I took the route toward a management career. In a company like Daimler, that's not something that happens overnight. It's really hard work. And it takes years. At some point, on November 14, 2018 to be exact, I had the assessment exam in the bag. And honestly. Looking back, that was the turning point. The moment when my cord cutting process began. I wanted a job where I could lead people. But for a variety of reasons, that didn't work out. I lacked perspective. Both internally and externally, I didn't really know what to do. To cut a long story short…
Then came Corona and reduced working hours.
On June 9, 2020, to the day, Walter (remember him?!) wrote to me and asked me if I had time to meet with him. He wanted to talk to me.
He wanted to tell me about his start-up - Talknow.
What I didn't know… Walter had been living in Berlin for many years, just like me. We had lost sight of each other entirely, that's all. Through a mutual friend I' ve heard now and then a story about him. But nothing more. Walter has always shown a flair for the moment. He lured me in at exactly the moment, when I was extremely susceptible to a radical job change. From the safe haven of a large corporation to the clutches of a pre-seed startup. Just my kind of thing. Deep down, I've always felt that the startup world is exactly mine. I was walking around with neon hoodies at Daimler back in 2010. They didn't think that was too appropriate at the time. I was considered to be the unconventional one, the one who always liked to get in trouble. Through Talknow, I saw the chance to finally make the long-awaited change of scenery. It was a process. First, I took a look. I quickly realized that snooping in the startup world wasn't it. Deep in the water I was from the first second.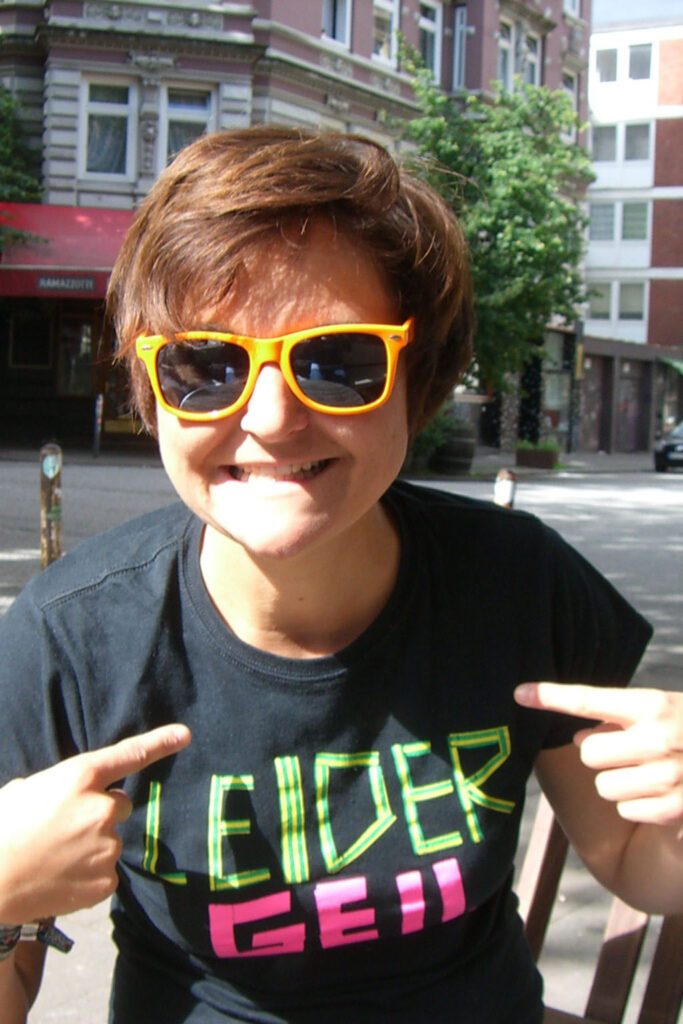 But I loved it!
Building a company from scratch and making it work absolutely matches my athletic ambition. And by that, I don't mean being easy. On the contrary. If I had been looking for security, it wouldn't have driven me away from the ready-made nest of a large corporation.
In the meantime, Walter has stepped back a bit and given me the reins. Together with my team, we are now trying to make the world a little bit better with Talknow. My professional life is certainly more uncertain than ever, but I feel I am up to the challenge.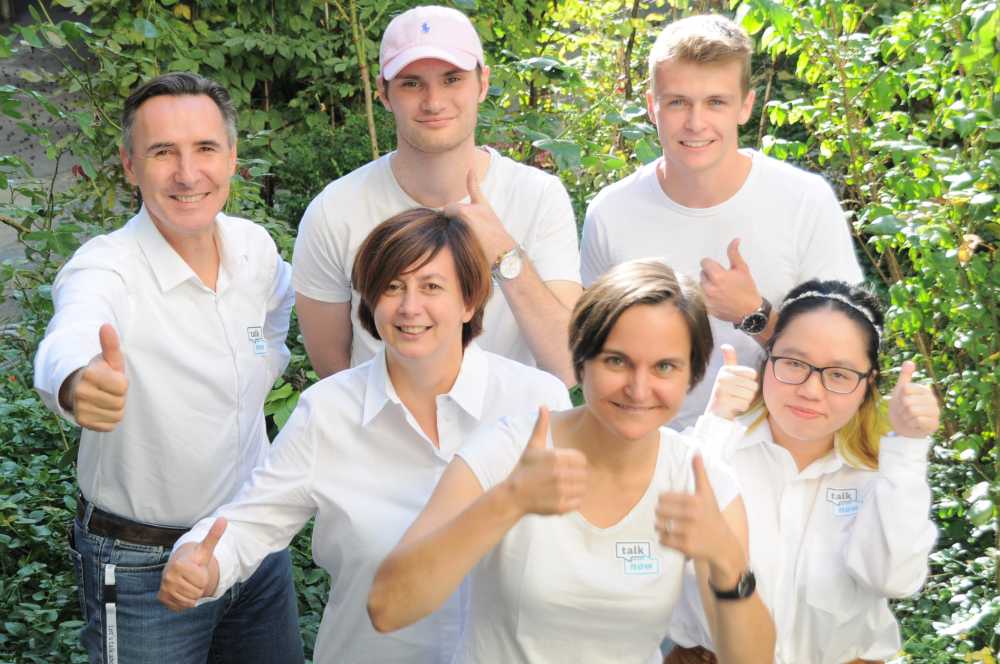 Oh well, ... all good things come in threes.
I already mentioned my longest relationship, tennis, my 2nd longest, the Daimler. My 3rd longest, which in the meantime has lasted >7 years, is my great love, my wife Ulli. And if we are honest, that's what life is all about.